Italy for Kids! Arriva a Roma
Is Italy for kids? Absolutely!
To get our young boys excited about our trip to Italy, I bought them a copy of Leigh Hobbs 'Mr Chicken- Arriva a Roma'.  Which they loved.  And as we are film makers we decided to make a film about 'Mr Chicken Arriva a Roma' and our own adventure.  You can watch the results here.  Or read on to learn more about what to do in Rome and Naples with young kids.
What to do in Rome:
If you want to live like a Roman for a few days then our Air B&B was surely the way to do it.
Our apartment was behind one of the mysterious huge wooden doors that you see along the streets of Italian cities.  We realised that behind all these doors are apartment buildings that you can't see from street.  This is where the Roman's live!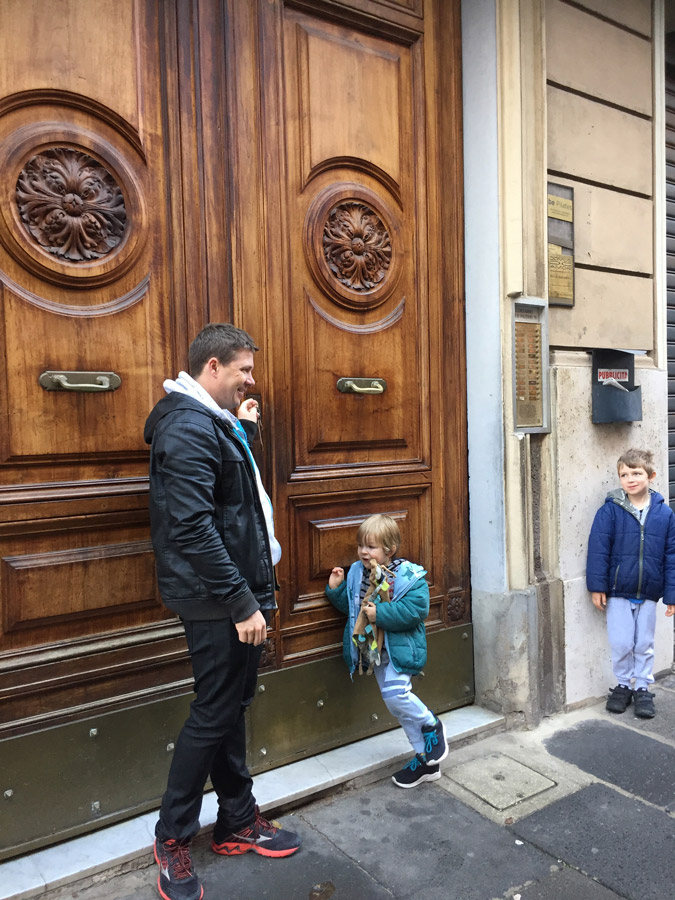 If you haven't stayed in an an Air B&B then they are definitely worth looking at. 
I've previously stayed in Hotels in Rome and they can be very small and expensive.  When you're traveling with kids small rooms are not very practical. 
By comparison, our apartment had two large bedrooms, one with a queen bed and the other two singles.  A large lounge and fully set up kitchen, two bathrooms and a washing machine.  It also had wifi and digital TV with the English language setup option- bonus!
I think people who haven't stayed in Air BnB's still have the idea that they're are like living in someone else's home.  That the owner simply moves out for a few day while you are staying.  But this in not the case, you have to check the listing and reviews carefully, however the place we found in Rome is completely set up as a guest house, the owner does not live there.
You can find the details here.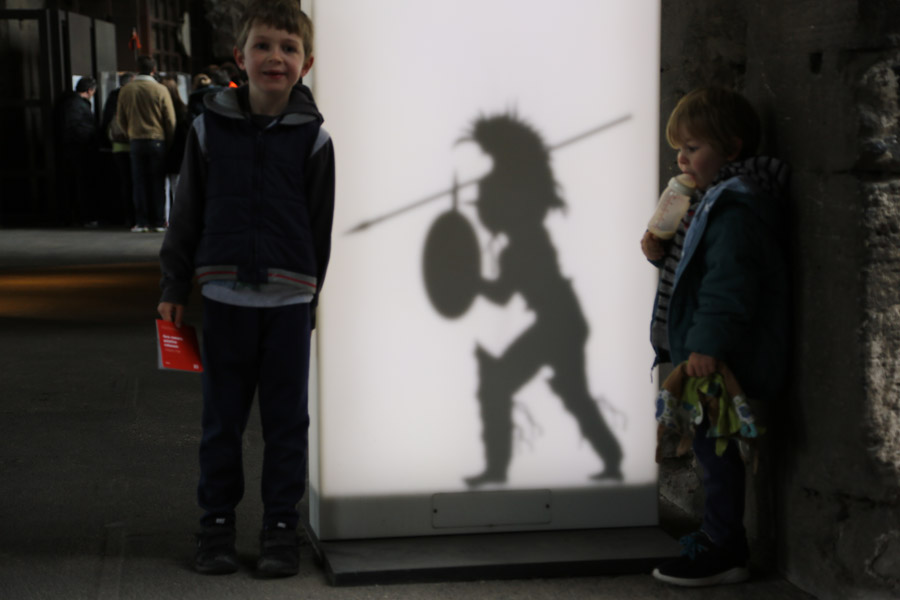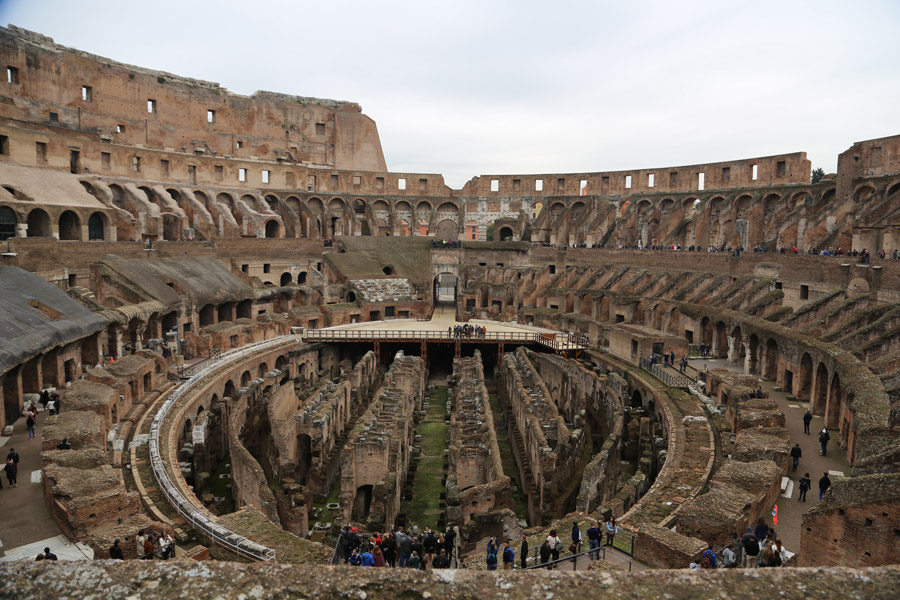 Colosseum or Colosseo as the Romans call it:
We were just a 5 minute walk to the Colosseum and the kids were bursting at the seams to get at it. What is it about boys? The thought of gladiators and battle ships sent them into overdrive and they couldn't get enough.
Rome is amazing to walk around, we walked to the Trevi Fountain, Spanish Steps, Mouth of Truth and the Pantheon all in a morning. 
To my surprise Isaac managed to walk much of it without being carried.  It was our first trip with out the stroller and I'm so glad.  Rome footpaths are mostly cobble stones and very narrow.  Hard yakka with a pram.
A short walk over to the park from our apartment and we had children's playground. Perfect!
The metro is easy to navigate. There are many stops so you can easily get over to Saint Paul's Cathedral and many of the sites.
There is no shortage of Gelati, Pizza, Pasta and Coffee in Rome.
If you find yourself near this restaurant then defiantly stop for meal.  We had a wonderful lunch. Da Roberto e Loretta.
Some basics about what to do in Rome
A taxi from the Airport to central Rome is a fixed fare of €48 at the time of writing this.  It takes approximately 40 minutes depending on traffic.  You can get a train from the Airport to the main train station 'Termini' and it's €14 per adult and €6 per child over 4 years old. It's a 30 minute duration Termini.  Once there you may have to then get a taxi or the Metro depending on where you are staying.
Dining in Rome is expensive, especially near the tourist attractions.
Romans eat late, usually restaurants close in the afternoon and open again around 7pm.  Depending on where you are in Rome, many of the shops also close for a few hours in the afternoon, particularly on Sundays.
Remember all you fellow Aussies, if you ask for a latte in Italy – you will get a glass of warm milk!  Be sure to add 'cafe' latte to your order if you want the coffee too!
The Trip Advisor app is a huge help in finding good spots to eat.  The reviews give you a good sense of prices and what to expect.
The Metro is easy to navigate and not too expensive.  A one way ticket costs €1.50.  Kids under 6 are free.
We found the people in Rome to be very friendly and helpful.
Security-
We were warned to be very careful about our personal belongings as pick pockets are rife in Rome.  But we did not experience this and felt safe.  Although, as our kids are young we were rarely out later than 8pm at night.  You should always be sensible about keeping your passport and wallet secure and not flashing expensive jewellery.  But we did not feel unsafe at any time in Rome, even at the busy train stations.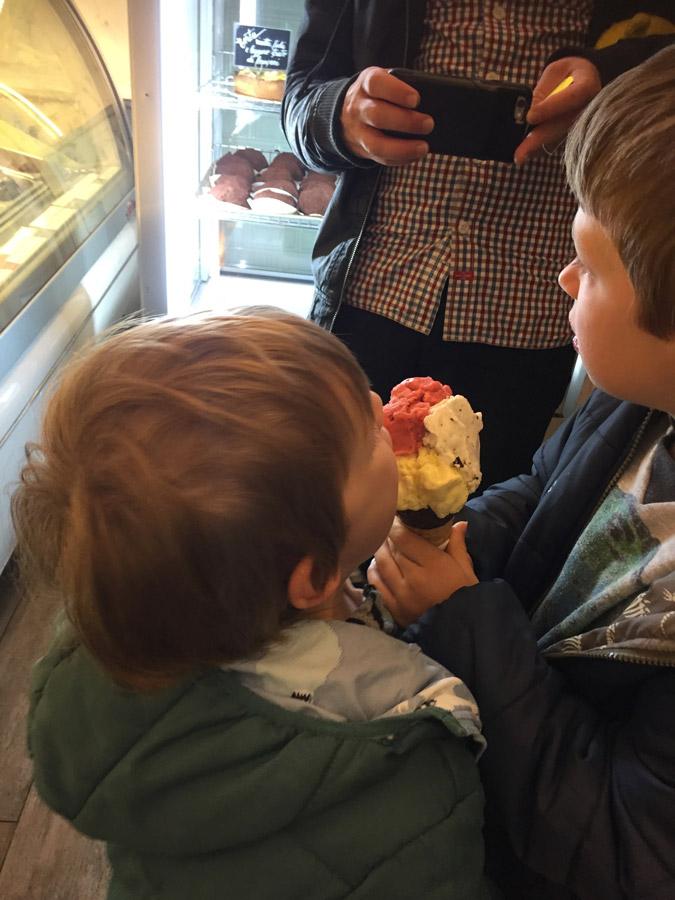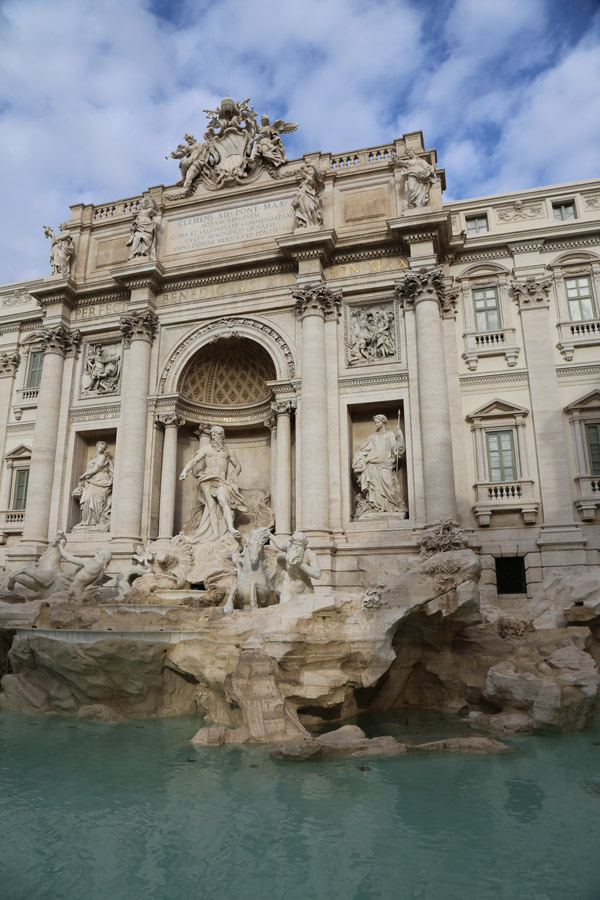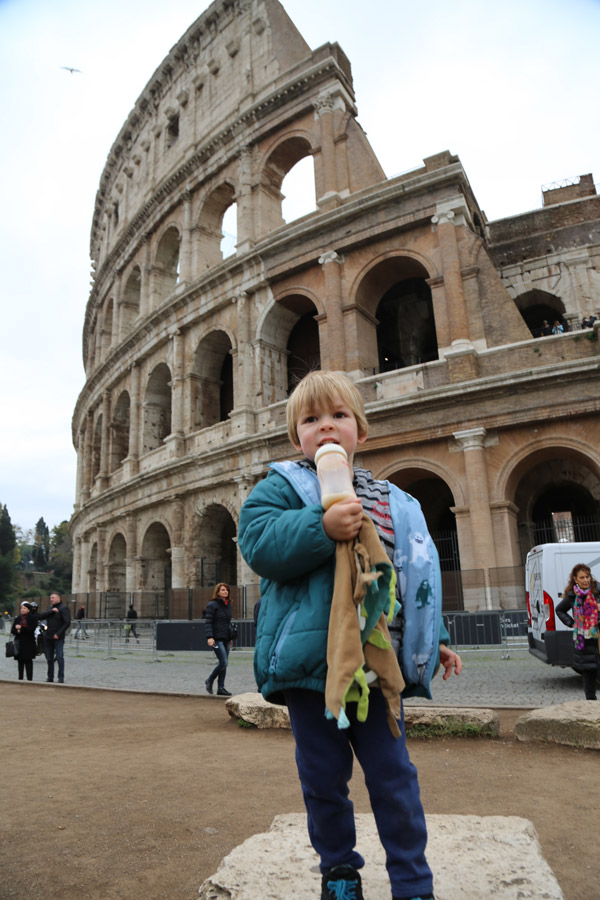 What to do in Naples for Kids
"Hobbits"
Another great Air BnB. Paladin Home
Our host met us at the train station to bring us to theAir BnB.  This was lucky for us as it was only 1.5 km away.  We would have been silly enough to walk not realising what goes on in Old Town on Sunday's which was where we were staying.  They have street markets set up and the crowds are enormous, particularly as it was close to Christmas.  Our host brought us in a cab to a spot about 200meters from the apartment and helped us weave our way to our door.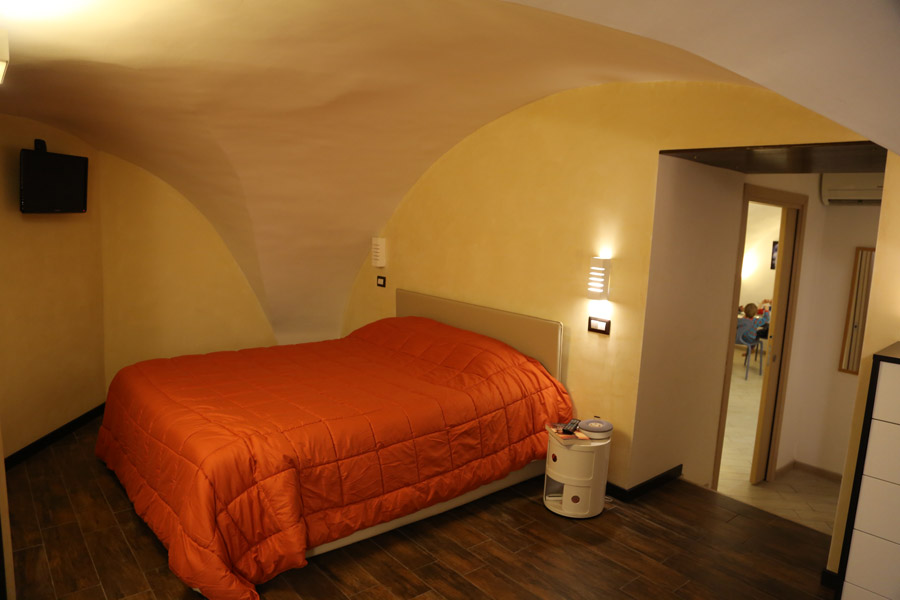 What a surprise, the entry was a small hall big enough for a small car to park if needed.  Up a steep flight of stairs and into what can only be described as a large cave or to the glee of our kids- a hobbit home.
The architecture of the region is of arched roofs and although our apartment was on the first floor, the roof was arched.  There were many more floors above, presumably with the same style of roof.
It was a very modern space with a kitchen and laundry.  A large lounge with pull out couch and dining table.  The master bedroom had a large walk in robe and of course there was a bathroom with a beautiful picture of Sophia Lauren. The home had plenty of space to spread out and relax.  It was also surprisingly quiet considering the chaos out in the streets.
Staying at this Air BnB was a treat.  
Fresh Fruit!
We had a bucket and rope and could lower it to receive fresh fruit and veg from the green grocer below – fresh eggs and bread for breakfast every day!  Paladin Home truely is a remarkable apartment in Napoli Old Town.
The Naples tradition is to hang your laundry off the balcony where clothes lines are set up. 
I found this a bit unnerving and hoped a strong wind didn't take our underwear for an adventure- but the pegs worked and we had clean clothes!
Hop On Hop Off Bus
We had a fantastic day on the Hop On Hop Off bus, as anyone with young kids knows- walking is hard work if you have to carry a 4 year old for most of it!  The bus meant we could stop right in front of any of the attractions we wanted to see and then jump on the bus to the next one.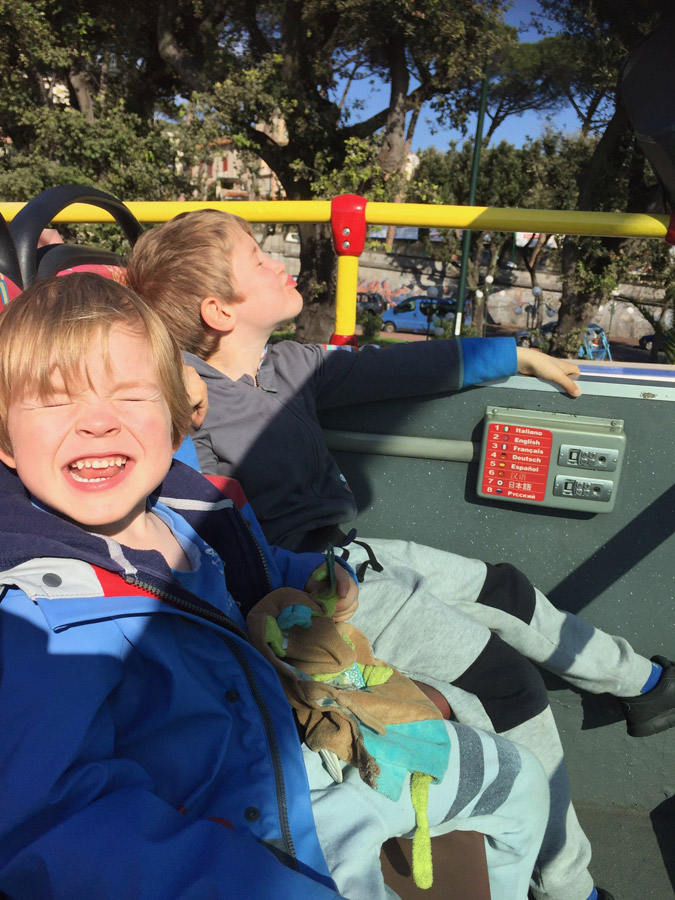 We sat right up top at the front and had an amazing view of the hustle and bustle as well as the incredible scenery in the distance- such as Mount Vesuvius.
Buy a ticket on the bus at any of the stops.  The website not very up to date. You can pick up a timetable and map at any of the information booths or hotels.
Trip advisor sent us on goose chase when we tried to find the bus stops- I think it was changing the directions as the bus moved!!! so best to ask a local where the nearest stop is if you don't have a map.
Old Town was a sight to behold, Christmas decoration stalls, nativity sets, gifts, wares of all descriptions for row after row as far as the streets were long.  And the crowds to match.  Although the weekend we arrived was nuts, once Monday rolled around it was much quieter.
There were so many restaurants and cafe's tucked away you do not need advise on where to go to eat in Old Town- you're sure to discover a gem on your own.
We discovered 1947 Pizza Fritta  which had the most crazy fried pizza I have every experienced- the kids LOVED it.  It's a little out of old town but not far to walk.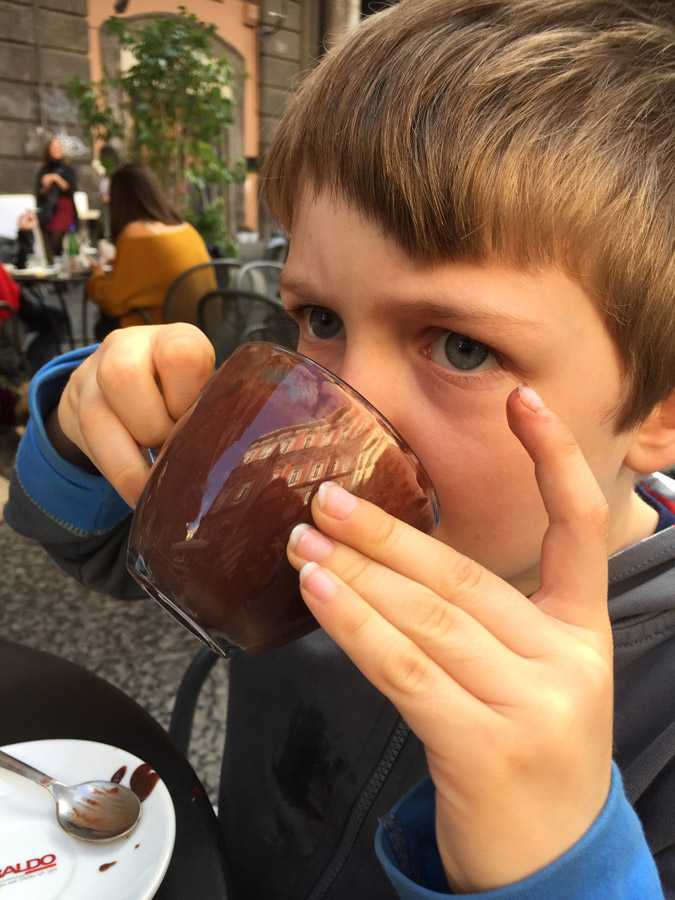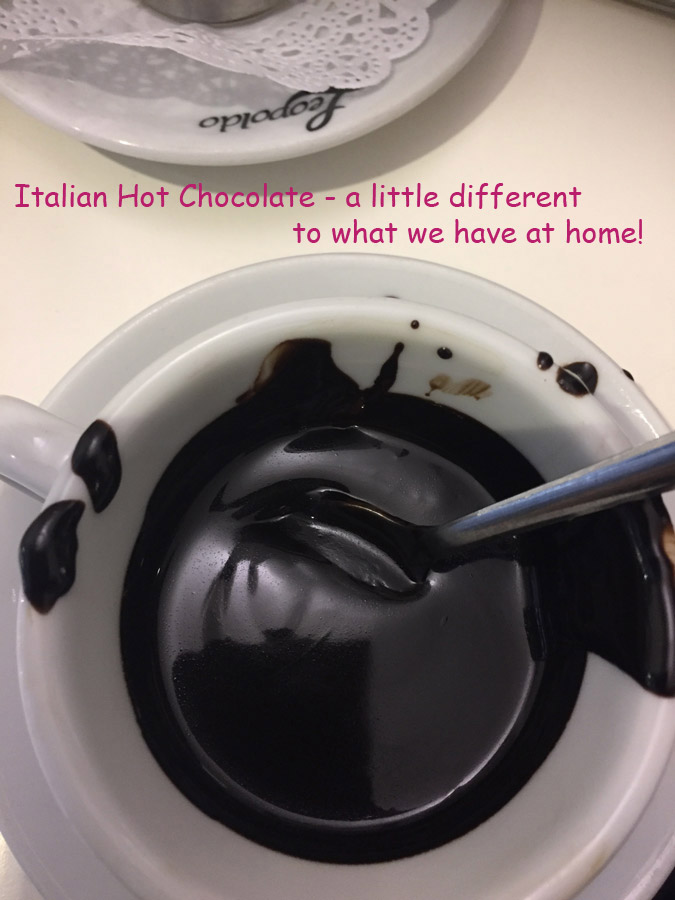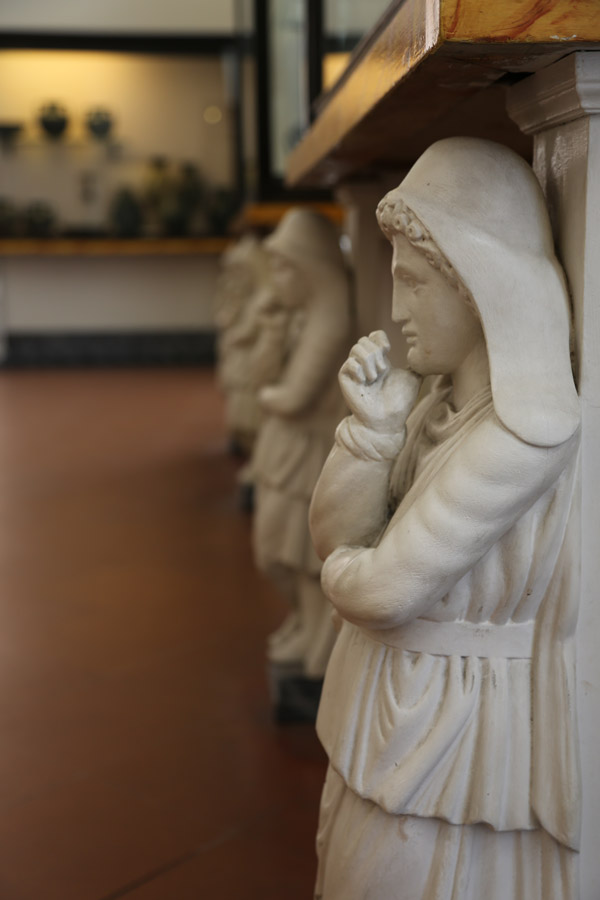 Day trip to Pompeii –
Get ready for some walking- it's a big place and you'll struggle with a pram.  We spent a good few hours walking around and barely saw a quarter of the place.
We caught a train from Napoli Central station that went all the way to Pompeii.  Entry to Pompeii is €11 per adult €6 for kids over 4.  There are plenty of folks wanting to take you on a tour which all seemed to cost around €12 per adult and you still pay the entry fee on top.
We choose not too at the disgust of the pushy operators who will tell you 'it's 8km and you will know nothing without a guide'.  Be warned they will try to get you as soon as your off the train and confuse you into buying a tour when you think it's an entry ticket.
As our boys would be very unlikely to listen or behave on a tour we didn't do it. Instead we downloaded the free Pompeii app on our phone and it is great, has heaps of info and you and do a virtual reality on sections of the site that shows what it would have looked like originally.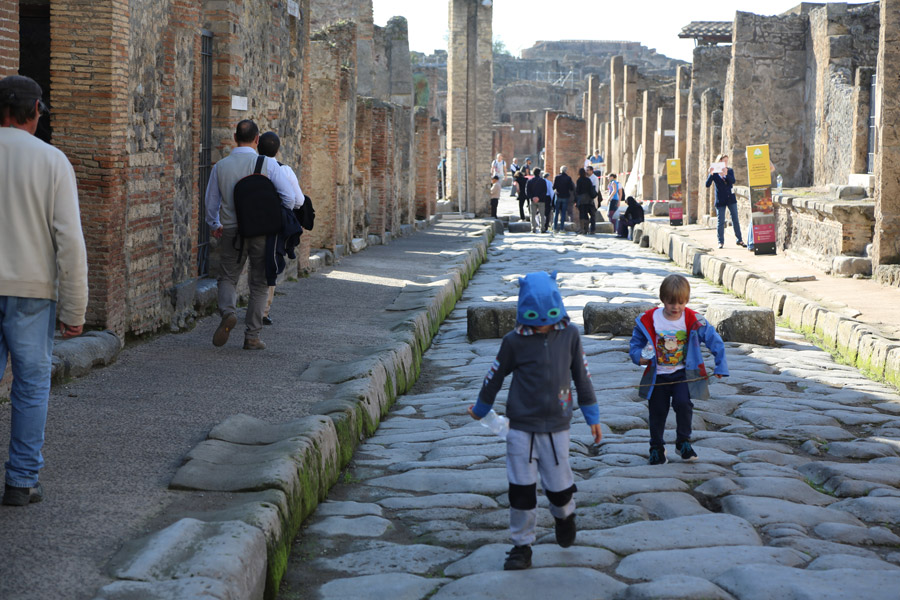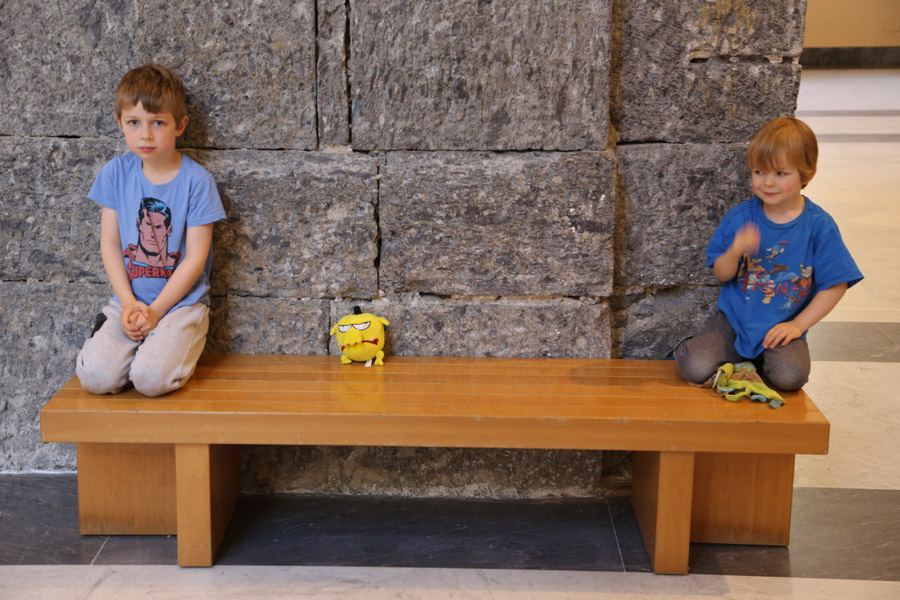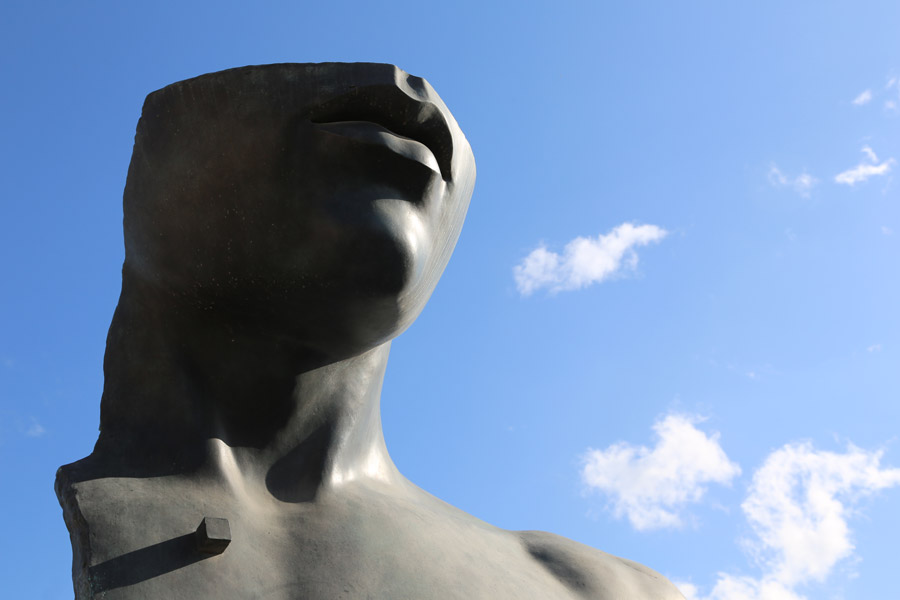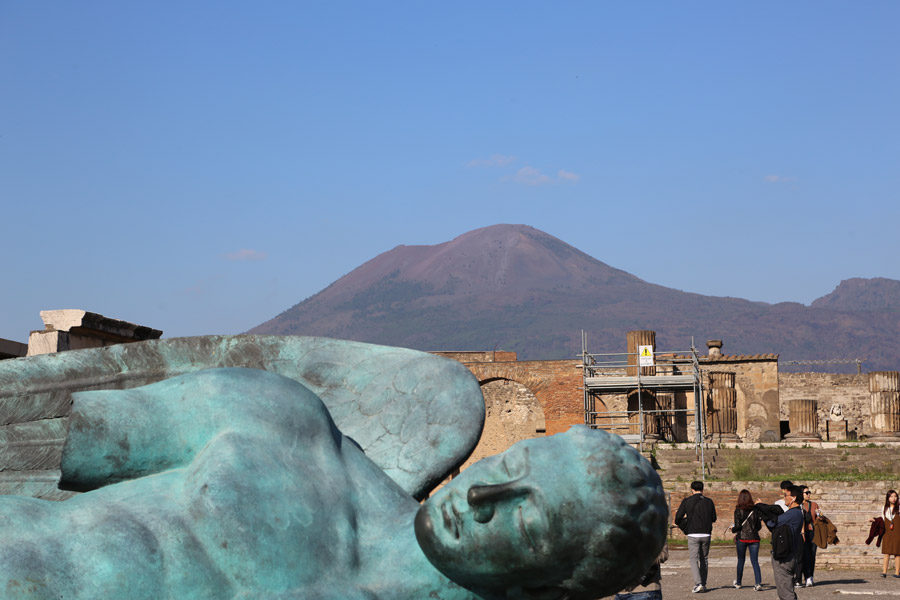 Nonna!
On our journey home we returned to Rome for one night and stayed close to the airport. It was a boutique hotel hidden in a small town that would probably be fantastic in summer as it's very close to the beach. 
However, being winter the town was very quiet and most things were closed. 
We weren't worried as it was just for a night and we'd fly out early in the morning.
Our only concern was that we arrived at 3 in the afternoon and we hadn't eaten.  The hotel recommended we eat at a local 'home kitchen' or rather 'Nonna's cucina' and experience an authentic Italian home made meal.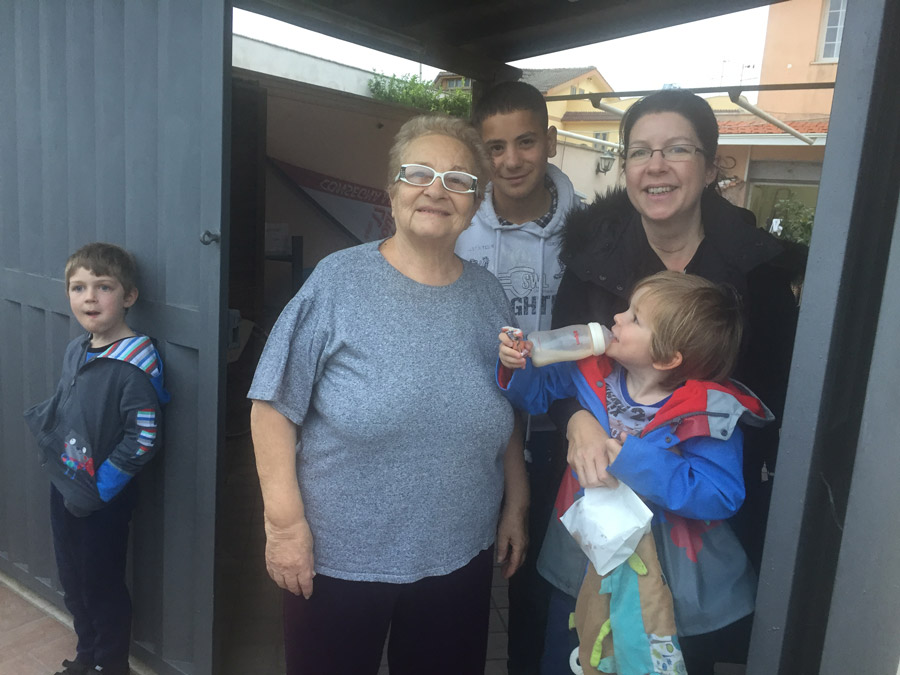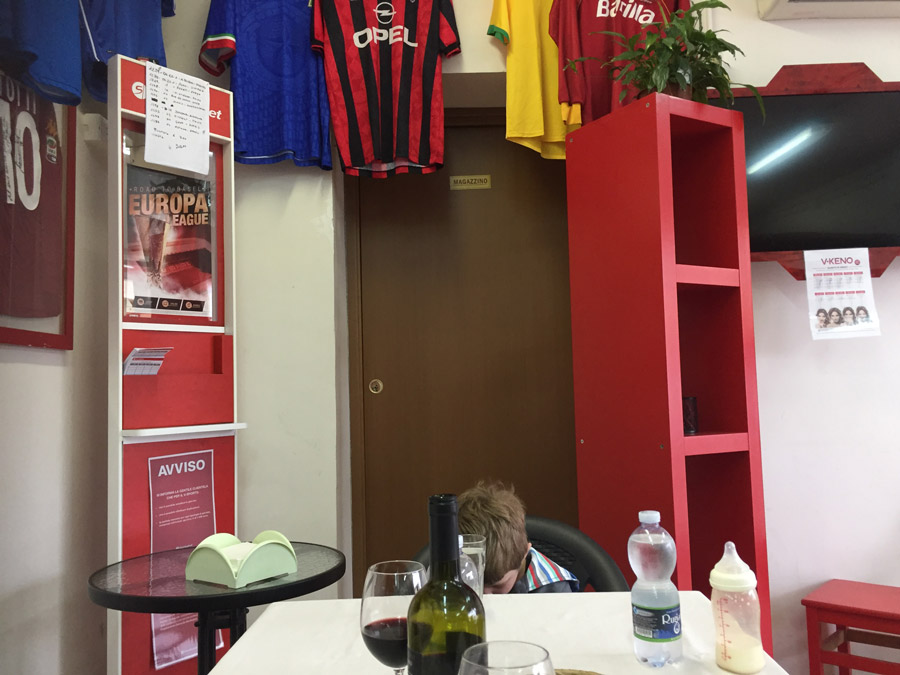 Nonna's Cucina
They kindly drove us to Nonna's where we were shown to a table inside a shop front.  It felt kind of like a fish and chip shop and the table setting was outdoor plastic with a table cloth.  Football shirts from a number of teams hung on the walls- not as decoration but as sale items.
We were the only guests.  
Nonna asked us if we like gnocchi, this was the option. 
Nonna's voice sounded like she'd smoked a packet of Camel cigarettes daily since she learned how to breath.  But she smiled kindly.  I'd heard Italian Nonna's can give an evil eye if provoked, so we tried to be as polite and agreeable as possible. 
We enjoyed the home style meal and thought it was a fun experience to have on our last day.  The ambience of the venue didn't offer much.  No music, no warmth and frankly not much character so we assumed it would be an inexpensive option.  Especially as we were presented with no options.
Then Nonna brought the bill! 
Yep, we got done! 
€70 done!
I imagine they threw a party after we left to celebrate there haul.
Although we felt a bit stung, we reconciled this with the thought that it's the off season for the area.  They rely on the tourist dollars to get them through. 
On return to our hotel we discovered that reception was closed and we were the only guests, completely on our own. 
So it probably was lucky they'd sent us to Nonna or we would have been famished! 
On reflection I suspect the owners had probably headed down to Nonna's to celebrate the haul too! Party on us (except we weren't invited…)  
Fortunately we'd thought to arrange the transfer to the airport when we checked in.  I have no idea how we would have found a taxi.  It was advertised as 2km from the airport and it probably was if you went in a straight line from their front door and across the run way.  However it took 15 minutes to drive there as you had to go all the way around the Airport to get to the entrance.
Journey's End
If you had any doubts about Italy for kids, I hope this blog has helped your thinking.  We made it through Italy's wonderful Roma and Napoli cities with kids, and I would highly recommend it.  Italian's love children and are warm and accomodating.  
Leave me a comment or get in touch if you'd like any more details on how to navigate Italy for kids.
Best wishes
Sue
If you missed my blog on Greece with kids- you can read it here: Greece with Kids- A Working Mother's Tale
Follow Two In A Row Blog: